Càmping l'Alguer Les Planes d'Hostoles
Contact
info@campingalguer.com
Our mountain campsite has 73 pitches, for permanent stay campers, pitches for camping and/or access with a caravan, van, motorhome... Bungalows and Cabins in the trees. It also has a restaurant and swimming pools, which are open in the summer months.
In order to enjoy the Valley of Hostoles, Camping l'Alguer offers various activities, inside and outside the Camping:
Bar Restaurant
Pool
treehouses
bungalows
changing rooms
hot showers
Laundry service
Playground
ping pong
social room
barbecue area
Car wash
Picnic area with barbecues
Football field
petanque court
plots
Electricity
Television
Wifi
Card payment
Accessible by Caravans
Parking with Barriers
public parking
Fishing zone
Greenway (bike lane) Carrilet passes 500m from the Camping
Hiking
PLAYGROUND
The children's playground is located next to the restaurant and the pool. It is always open and children will always be able to enjoy it. We also have a green area, a small path along the river where there are different corners, our bird tree, a park and soccer field, etc.
SOCIAL ROOM
The Social Room is located at the entrance of the campsite, next to reception. It has tables and chairs, perfect for board games, a fire on the ground to heat in winter and a TV plug. It is a building made of ecological btc block, keeping the freshness in summer and the heat inside in winter, so whether it is hot or cold, it is always very good inside.
Next door is the Barbecue Area where campers have a large work station to cook together. As for grills, each one puts his own! Here is also a sink with a marble top to clean everything up when you are done!
CHANGING ROOMS BUILDING
The changing room building is located on the main street of the campsite, right in the middle whether you come from the entrance or from the restaurant. It has multiple functions, since in addition to the changing rooms where we find the showers, sinks and toilets, there are also toilets and a shower for the disabled, an area to do laundry both in the laundry room and in the washer and dryer, and an area for washing dishes!
The Building is open 24 hours a day, every day during the summer, and on weekends in winter. We try to carry out a minimum cleaning of twice a day in summer, and once a day in winter.
SERVICES FOR THE DISABLED: In order to keep its layout intact, it is always locked. Clients with special needs staying at the campsite must ask in advance at reception or in the restaurant to open it during the time of their stay.
AREA TO WASH AND DO THE LAUNDRY: Space dedicated to cleaning dishes and clothes, always open to give access to changing rooms and toilets. To use the washing machine you need a token that can be purchased for €4 both in the restaurant and at reception. If you wish to obtain soap and cleaning utensils, a basic kit of products will be available at reception.
CAR WASH AREA AND CHEMICAL WC: Next to the building is the area for washing cars, motorcycles, bicycles, etc... There is a hose with water always available for the camper. Here is also the chemical toilet for motorhomes and caravans.
Registration Number in Tourism Register of Catalonia and Andorra: KG-000150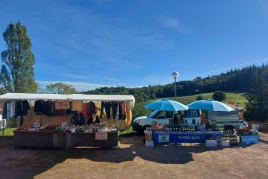 07/10/2023 - 08/10/2023