La Closa Castellar de n'Hug
Contact
info@laclosa.cat
La Closa, is located in front of the meadows where the famous Shepherd Dogs Contest is held every last Sunday of August.
Its gardens and spaces allow you to quietly submerge in the sun, sit on the terrace or play with the children in the garden. At just 200 meters, you will find the municipal swimming pool, the sports court, the audiovisual of the Fuentes del Llobregat, the Pastor Museum. We also have wi-fi connection.
restaurant
La Closa Restaurant, is located in the center of the village of Castellar de n'Hug at 1450 m. high and right in front of the meadows where the famous International Shepherd Dogs Contest is celebrated.
Food suitable for coeliacs. Dishes without gluten. It is necessary to book!

It has two dining rooms, with a total of 140 places.
Mountain dishes of all life that the Castilians, whether shepherds or smugglers, savored; black peas with bacon, cooked "blat escairat", carving with winter cabbage...
We do not forget those who must follow a diet, those who have other habits or food needs or the little ones.
You can taste seasonal menus and always made from the products of the country. Nature gives us a thousand nuances every day.
Schedule:
From 10 a.m. to 4 p.m., it is advisable to book in advance.
What can we do?
The natural environment of Castellar de n'Hug, in the Natural Park of Cadí Moixeró and its history as a town of shepherds and smugglers, will allow you to make visits, excursions, practice mountain sports skiing in winter, hunting mushrooms in autumn, live events internationally renowned...
You can combine the tranquility of the facilities of La Closa with the activity that you want.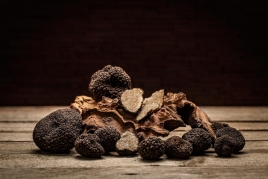 14/01/2023 - 12/03/2023