Zero Latency Barcelona Barcelona
Avinguda de Rio de Janeiro, 42
Barcelona
Contact
info_barcelona@zerolatencyvr.es
The future of virtual reality has arrived in Barcelona with Zero Latency
Imagine being able to enter a virtual world in which your body interacts and your mind believes that what is happening is real. The real and digital world mix to transport you into a universe you've never experienced before. When you move, the game moves with you. Live an action-packed experience in which you are the protagonist and you are in control.
The newest wireless communication technology and the most advanced positioning systems take you to a dimension unknown until today in video games. Enjoy alone or in a team of 200 square meters of action field.
Zero Latency takes you into the future with various unique Virtual Reality experiences
Far Cry VR - Developed in collaboration with Ubisoft and exclusively for Zero Latency VR. Prepare to be transported to Rook Island, the setting for Far Cry® 3, and dive into an adventure that will reveal the true definition of insanity.
Sol Raiders - Zero Latency's first Player VS Player experience. Form your gang, control your combat team and fight in 3 futuristic scenarios full of special missions and exciting challenges.
Outbreak Origins: Prepare to fight epic battles to find the care of a deadly virus that has created hordes of zombies that have taken over the city.
Singularity: Immerse yourself in an immersive experience set in an interstellar station where you will have to fight against robots, drones and cannons, strategically placed in an environment without gravity.
Undead Arena - Awarded Best VR Experience at the 2020 XR Awards, it is an arcade-style experience that takes zombie killing to a new level. Now is your chance to find out if you will survive the apocalypse!
Engineerium: Escape into an imaginary world suspended over an ocean where gravity doesn't work as you thought. Welcome to a world that will test your ability to coordinate mind and body and will make you question your own reality.
Where: SOM Multiespai Shopping Center
When: Tuesday-Friday 15: 45-22: 00 | Saturdays, Sundays and Holidays 11: 00-14: 00 | 15.45-22.00 | Duration: 60 minutes (experience and previous preparation).
How much: From € 19.95 per player, groups between 1 and 8 players | Special prices on Tuesdays (it is recommended to book on the web).
Contact: info_barcelona@zerolatencyvr.es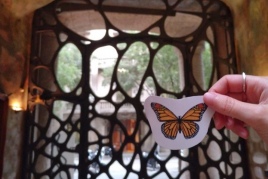 04/02/2023 ...

04/02/2023 ...