Mas Els Casals, s/n
Santa Pau
Contact
visites@fageda.com
organization
From the La Fageda Visitor Assistance Service we organize visits for families and individuals every weekend and on holidays. During school vacation periods we also make visits during the week.
The price per adult is €6, children from 3 to 14 years €3 and children under 3 years free. To visit us it is always necessary to make a reservation in advance.
The visit lasts approximately 1h. The opening hours of our facilities are from 9 a.m. to 3 p.m.
Visit content
A guide will accompany you on a tour of the fine and the facilities. At the beginning we will explain the most relevant features of our project and its novelties. Next, you will see the farm, the calves and the adult cows, as well as the robots where they go to be milked. Later, you will see the factory and the jam workshop from an outside corridor, and we will explain how we make our products.
At the end of the visit, you can watch a video about the project and try several of La Fageda's desserts.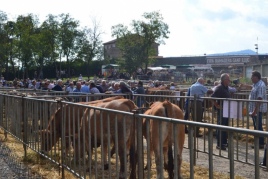 14/10/2023 - 15/10/2023

18/11/2023 - 19/11/2023