Province:
Barcelona |
Shire:
Vallès Occidental
|
Inhabitants:
91.453 |
Extension:
48,23 Km2 |
Altitude:
124 m
Sant Cugat, is an ideal destination for a day or weekend getaway, just a few minutes from Barcelona, you can come by train or car.
It is a young, modern, dynamic city and a scene in which things always happen.
Surrounded by the Collserola Natural Park, the great natural treasure, a paradise for walkers, cyclists, runners and horse lovers. An immense park that offers you endless possibilities to enjoy nature. You can also enjoy the 13 parks to walk, play with children and do sports in the middle of nature.
We can begin to discover it through its historic center, where the imposing Sant Cugat Monastery is located, a religious complex from the 9th century that houses one of the most exceptional Romanesque cloisters in Europe. Strolling among its 144 unique capitals of high sculptural quality or learning about the life of the Benedictine monks in the Monastery museum is a unique experience.
A few meters away we will find the Modernista Winery designed in 1921 by César Martinell; or the Cal Gerrer House Museum, a unique museum dedicated to Marilyn Monroe.
Also the Comic Museum a journey through the history of comics and their protagonists, through the different stages and evolution of their language. The Grau-Garriga Center for Contemporary Textile Art is the first center for contemporary textile art in Spain, they provide a wide range of culture in the city.
Another essential visit is Mercantic, a small vintage village of antique dealers, antique dealers, artisans and artists where different things happen every day. It is a benchmark in Europe for lovers of collecting and decoration. You can also enjoy a shopping EXPERIENCE of vintage items, leisure and gastronomy.
Strolling through the commercial hub of Sant Cugat is also an attraction in itself, we will find emblematic establishments with beautiful shop windows, art galleries and restaurants serving international cuisine, but also local cuisine.
Culture, nature, commerce, gastronomy and leisure is what you will find in Sant Cugat,..., there is something for all tastes. Do you dare to discover your?
Information:
Tourist Office, Plaza de Octaviano, 10
936 759 952 / Whatsapp 646 686 877 / turisme@santcugat.cat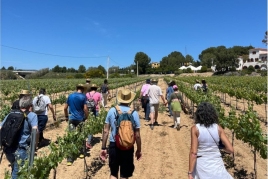 28/05/2023 ...

Weather forecast
29-05-2023
Morning
Evening
Max 24º
Min 13º
30-05-2023
Morning
Evening
Max 24º
Min 14º