Province:
Girona |
Shire:
Ripollès
|
Inhabitants:
10.991 |
Extension:
73,7 Km2 |
Altitude:
691 m
Ripoll is the capital of the Ripollès. It is located amidst the heart of the Pre-Pyrenees, in a strategic location as a crossroads. By its end pass Freser and Ter rivers that give the valley a peculiar way.
Ripoll's origins are found in prehistoric times, but what shapes the town that is now the Count Wilfred the Hairy, who in 879 founded the Romanesque monastery of Santa Maria under the Benedictine order. Over the years, the monastery grew in strength and importance, a fact that representation is shown as head of the monastery by the Abbot Oliva. This importance is also reflected in other aspects: political, economic and legal throughout Catalonia.
That made Ripoll residents were placing near the monastery, for security and future prosperity. But in the fifteenth century, this security is truncasa damage caused by an earthquake. With this, the citizens reacted and reconstruction of the monastery is produced with the application of the Gothic. Still, the population continues to grow and has the force since the War Reapers with making weapons. Despite this, there are diversified across industry sectors of the population: textile, chocolate, flour, etc..
So today, Ripoll shows the results of its history through its vestiges, among which are, as mentioned, the Monastery of Santa Maria de Ripoll where we found a two-storey cloister where even XII century's capitals.
Encontramosel also renewed Ripoll Ethnographic Museum, which for nearly a hundred years shows, collect, document and study the life, customs and industries of the region, the Scriptorium, a space for the production of manuscripts of the tenth to twelfth . Equally noteworthy is The Forge Palau essential place for the industrial age in the area.
Furthermore, Ripoll gives us a different route through the city buildings, in which we know the church of Sant Pere, fragments of ancient wall and a retinue of houses, of which we highlight Muntades House, Casa Bonada, Codina House and the Casal dels TAURINYA.
Furthermore, Ripoll also noted for its natural environment and therefore we recommend a walk along the Paseo de Martí and the Paseo Ragull Aurons dels. But we can not forget the riverbanks with their levers and bridges that help you understand the role played to Ripoll.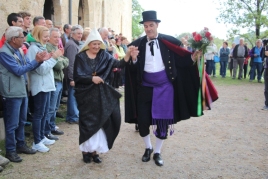 27/05/2023 - 29/05/2023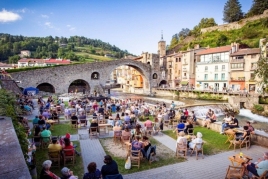 03/06/2023 ...

Weather forecast
28-05-2023
Morning
Evening
Max 26º
Min 9º
29-05-2023
Morning
Evening
Max 24º
Min 9º