Province:
Girona |
Shire:
Alt Empordà
|
Inhabitants:
1.974 |
Extension:
43,6 Km2 |
Altitude:
32 m
On top of a small hill in the Alt Empordà region stands the municipality of Peralada. This is only 7 km from the capital of the region, Figueres. Two parts can be distinguished in the town, of which the old town located in the surroundings of the Peralada Castle stands out.
In addition, it also has the old town of Vilanova de la Muga, of which the thousand-year-old church of Santa Eulàlia stands out with its Romanesque and Gothic wall paintings, and the neighbourhoods, made up of several nuclei of farmhouses that are scattered throughout the town.
The origin of Peralada comes from the year 500 a. C. when an Iberian settlement was located in this territory. However, the period with the greatest splendor of this municipality was during the Middle Ages, since it was one of the first important towns in Empordà, due to the fact that it was the capital of a cash.
The historic center stands out from this period, with its charming streets and a rich and diverse heritage. In the middle you can find the Museum of the Villa with the Romanesque Cloister of Sant Domènec, recently restored, also the seat of the tourist office. In this space, the figure of the chronicler Ramon Muntaner, illustrious son of Peralada, is also revealed. Taking a walk through the historic center, you can find the church of Sant Martí, commanding the highest point of this hill that the Iberians found ideal to settle. Also not to be missed are the remains of walls from the different periods in which they were built.
Very close, in the Convento del Carmen, Gothic in style and which houses the Peralada Castle Museum, with the impressive collections of the Peralada Castle family. This emblematic castle-palace is located right next to the historic center and is also the venue for the Peralada International Music Festival.
Near the gardens that surround the castle, you can find the building of the new Celler Peralada, which allows you to visit its impressive building and taste the wines and cavas that they produce, along with many others, in the heart of the Empordà Designation of Origin.
As regards its natural environment, Peralada is to the right of the Orlina river, which joins the Llobregat de Empordà, as it crosses the municipality on the southern side and which also later joins the Muga river.
There are also a large number of cart paths and hiking and cycling itineraries that connect Peralada with its neighborhoods and allow us to walk enjoying beautiful surroundings.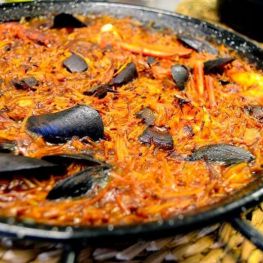 Colera

(a 15.4 Km)
In Can Llissa we are defenders of the slow food philosophy and…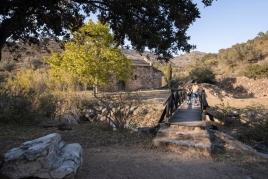 07/10/2023 ...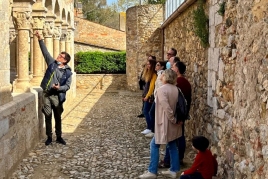 14/10/2023 ...

Weather forecast
02-10-2023
Morning
Evening
Max 27º
Min 15º
03-10-2023
Morning
Evening
Max 30º
Min 16º