Hotel Prats Ribes de Freser
Contact
info@hotelprats.cat
Member of National Association Fonda houses, (endearing places where you can sleep and where Catalan cuisine is highly relevant).
The rooms are on the upper floor and many of them give off the river, making it more relaxing Traveller's Rest. There are also family rooms, because in these places is more usual sightseeing and family outings.
Services
Geothermal Energy
The heating system of the Hotel Prats is based on renewable energy the "Geothermal". Harness the energy of the earth (100 mts. Down) for using a heat pump, domestic hot water and heating.
Controlled Geopatía
The Prats Hotel has installed a system that neutralizes and balances all the negative energies of the earth, many of them operate at low frequencies and we can not perceive. They can be caused by electric fields both as landforms (fail, underground streams, Hartmann lines ...).
In this way the environment is free from interference and the rest is real in every way.
Restaurant
Breakfast
Bar
Small playground.
Small tv room
Summer terrace
Computer Corner
WIFI
Parking
iclistas
Rooms
The rooms can be divided into two groups, facing the river and overlooking the terrace, the side of the street. All are equipped with full en suite bathroom.
The double occupancy can be twin or double bed.
There are also triple and quadruple.
The hours of rest are the most important part of the day, is why I have sought to bring the rooms up to get it, within the capacity of each room. Whenever it was possible, the bed are oriented north and the rooms have been painted with warm colors to relax the eye.
But most important is the system they have installed in the Hotel that counteracts all the negative frequencies of the earth who call geopathies and also neutralizes all radiation that can cause electrical appliances that may be nearby. All this helps us to keep the body relaxed in all areas of the Hotel Prats.
Activities
Winter sports
To ski with family or go and spend a weekend in the snow, there are very close to the ski resorts of the Pyrenees nicer, such as La Molina, Masella or Vall de Nuria.
Ice skating. A 45 km from the ice rink Puigcerdà.
Mountain guide rental for tours adaptable to all needs.
Summer and Fall Sports
Treking
Riding in the Vall de Ribes.
Canyoning. The Corba
Archery.
Adventure activities. Zip lines, suspension bridges, orienteering, climbing, canyoning ...
How to get
Access to Ribes de Freser are either by road or by train:
By road, linking the Vall de Ribes to Barcelona, ??Vic and Ripoll by Sweat is the C-17. And to the north the N-260 (old N-152) to Puigcerdà.
By train, take line L'Hospitalet - La Tour de Carol of Renfe.
Registration Number in Tourism Register of Catalonia and Andorra: HG-000111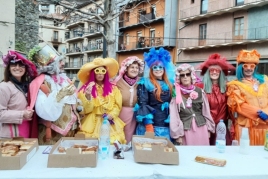 11/02/2023 - 12/02/2023 ...