Relleus Gent de Muntanya Castellar del Riu, Guixers
Contact
info@relleus.cat
At our kayak rental base, in Relleus Gent de Muntanya we offer summer services in the Llosa del Cavall reservoir, where you can enjoy activities with children in Solsonès in an incomparable natural and high mountain setting, guarded at all times. through the high mountains that make up the Lord Valley, of which today the Llosa del Cavall reservoir is an unquestionable protagonist.
Located in the north of the Solsonès region and in the quiet Lord Valley, the Llosa del Caballo reservoir is the best place for beginners to kayaking because navigating its calm waters is, in addition to being a perfect and relaxing activity, the type of environment that will make it easier for us to learn to paddle a kayak.
Apart from kayak rental, Relleus Gent de Muntanya offers you a wide range of water activities, as is also the rental of Paddle Surf tables, again, the waters of the Llosa del Cavall reservoir become the ideal place for the initiation to which is also known as SUP (Stand Up Paddle). But if you want a more lively activity, you can also rent one of our water scooters, or other pedal boats, equipped with a slide that will delight the children of the family (and also the adults, let's not kid ourselves)
Why rent a kayak?
Well, because paddling with a kayak in the waters of Llosa del Cavall, and even more so when it is full, is quite an experience given its unique mountain setting. Kayak rental in Llosa del Cavall, other activities such as paddle surfing and scootering for routes through this Solsonès reservoir. At Relleus Gent de Muntanya we offer you the possibility, with our kayak rental base, to rent a kayak either for family outings, with your pet, friends, or to go out to do some paddle surfing or to pedal with our scooter with slide that will delight the little ones, for sure! Renting a kayak in Losa del Caballo from Relevos Gente de Montaña is a guarantee of a good experience and of receiving good material and excellent treatment.
Discover canyoning
Discover new emotions and corners where you would never have thought to arrive, canyoning is a spectacular sport! You can practice it in many places in the country. Contact us, we choose the ravine that best suits your level and we go out to enjoy it!
Snowshoe routes
Discover with us the pleasure of walking on the snow and enjoying the winter landscapes. We propose different routes adapted to your needs, or if you prefer, we can go out and do the route you have always dreamed of! Do not wait more,
Initiation to caving
Discover the underground world, let us accompany you and tell you the stories that the passage of time has hidden underground.
Do you dare with the via ferrata?
Discover with us the most beautiful horseshoes in the country, there are for everyone, from the easiest to discover the world of via ferrata, to demanding itineraries with steps that will put you to the test.
Do you like to walk in nature?
We make it easy for you, we suggest routes for hiking. In the regions of Berguedà and Solsonès we find a wide network of trails and above all very beautiful corners. If you want to spend a weekend morning connected with nature and disconnected from all kinds of pollution and urbanization, come hiking! We offer you guides and also insurance so that you can carry out this activity with complete peace of mind and confidence. Do not hesitate and start in the world of trekking. We organize outings from 4 people. Enjoy more of the experience with which he knows the environment and knows how to tell you about it.
Would you like to know what it feels like to reach the top of a peak?
We help you fulfill your dreams. We offer you a guide who knows the mountains, accident insurance and photographs of the activity. We suggest peaks for ascents in our territory, between Solsonès and Berguedà. Is there a peak that you have been looking at and looking at for a long time and you don't dare to embark on an adventure on your own? Contact us and we will plan the route for the safest itineraries through work on the map and the in-situ guide to always ensure your safety.
Do you have aim?
We put at your disposal the materials to start with archery. Enjoy a family morning practicing sports outdoors. Relaxation and concentration are the basic pillars for this activity. How many targets can you hit? Our monitors will advise you at all times to improve your ability. Within the price we offer you the qualified monitor, insurance, material and photographs of the activity. Book now to be able to come and enjoy this sport in Solsonès and Bergadà. Don't miss the winter offer, snowshoes and archery!
Where do we have the North?
We offer you orientation courses so that you learn to move autonomously through the mountains. Are you lost? Know your position with the help of a map and a compass. Theoretical and practical training to improve your orienteering skills in a more playful way. We propose already established routes to put you to the test. Get rid of the mobile and any other device with GPS. Now the guide is you!
Discover the activity packages that we offer you in Solsonès and Berguedà, activities to do with children and family, or others that will undoubtedly give you more emotion and adrenaline. Enter, search and find the activity pack that best suits what you are looking for and what you need.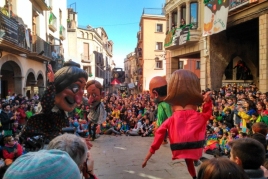 10/02/2023 - 12/02/2023 ...