La Passió d'Ulldecona Ulldecona
Contact
passioulldecona@passioulldecona.org
500 years of history
In 2012, a unique document 1512 was discovered in the archives of the Chapter and Diocesan of Tortosa, certifying that more than 500 years ago, in Ulldecona, religious representations were already being made.
In the Parish Archives of Ulldecona, within the "Book of Resolutions of the Clergy of Ulldecona (1558-1840)", a "Descent" was found in manuscript that was studied by Jaume Romeu Figueras in 1962 and duly treated in his work "The texts on the Descent of the Cross in Catalonia ". The document in question is a text of 248 verses that was part of a set of acts or pictures about the passion of Christ. Recently, representations of this fragment of the manuscript have been made, in ancient Catalan, and it is known as the "Descent of the Cross" act.
More than 60 years of representations
The current Pasión de Ulldecona was created in 1955 by Josep M. Rafí Poblet.
In 1993 the representations in Catalan were released.
After interpreting several texts by Junyent Quintana, Vidal i Alcover, and Roda Fàbregas 2016 Ganzenmüller Roig unified the texts in both the Catalan and Spanish versions.
the passion
More than 80 actors and actresses, a technical team made up of more than 40 people, make possible the representation of the greatest show produced in our regions.
A close, dynamic passion, without interruptions between scenes, transports the viewer into the center of the story.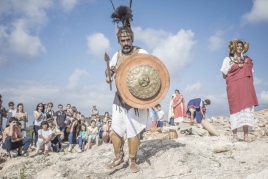 29/09/2023 - 30/09/2023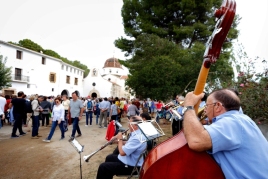 06/10/2023 - 10/10/2023