Associació del Via Crucis Vivent Sant Hilari Sacalm
Contact
info@viacrucisvivent.cat
For more than three centuries, Sant Hilari Sacalm celebrates its viacrucis live t, preserving the tradition processional transmitting from parents to children, and has become such an important popular manifestation that surpasses even its geography.
The procession of the Via Crucis living the Good Friday has a documented history of about 270 years, but before 1731 and processions in which characters of the Gospel as Mary Magdalene, Mary of Bethany or Mary the "sinner" were represented were held.
One of the most representative and popular Via Crucis Living of Sant Hilari Sacalm figures, along with the steps or Mysteries are armed. His work is one of the most spectacular and harder representation every night of Good Friday, followed for 3 hours the rhythm of the drums set the pace and behaving through the different streets of the city, with the sound of lances when pop against the floor.
One of the most emotional scenes, where they gather thousands of people, is what gives popularity to the Via Crucis Living, Calvary, located on the outskirts of the town, where the magnificent interpretation of the Roman soldiers along with an excellent illustration lighting and underlined with acoustic music, captive and strangers.
In 2010, the association of the Via Crucis Living of Sant Hilari Sacalm was awarded the Cross of Sant Jordi of the Generalitat of Catalonia to care for the preservation and enrichment of a religious event held in Sant Hilari Sacalm for more than two centuries. In recognition of the sustained dedication it involved this task, its transmission to younger generations and the valuable contribution that the Hilarienca tradition represents for the heritage of our popular and traditional culture. Similarly, the same year, the Government of the Generalitat of Catalonia agreed to reclassify our associaió as a heritage festive element of national interest.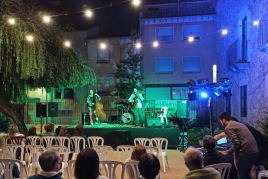 30/06/2022 ...

01/07/2022 - 03/07/2022 ...