Capacity:
14 | Carretera Hostalric a Mallorquines, Barri la Riera s/n
Riudarenes
Contact
la.casanova@hotmail.com
History
This house is called La Nova Casa de Colomer. Formerly a Mr. Colomer had a house in Riudarenes and bought another, this one. Hence comes the name of "Casa Nova".
There is documentation before 1750, in 1782 an extension was made: one floor up and an elongation at the rear.
During a fire in the seventies, the roof collapsed and left standing only the main walls. We bought the farm in 1988 and from 1989 we started to restore. Once a house has been arranged colony for about 20 years.
In 2013 we have made reforms and we have prepared for rural tourism. From 2014, with great enthusiasm we have started to offer services of Casa Nova and rural tourism.
Home
Holidays are for both large and small, therefore, the Casa Nova not only think of you, also thinks children. That's why we have your high chair and cot available for the little ones, if you wish, we should ask in advance.
We have prepared a "kids corner" with a table and four chairs to suit you. We also have toys. To play cocinitas, lumber, cars, stories...
We would be grateful to monitor children, beware of toys and that have well endressades and all children who come after, can play.
Bedrooms
The house has four triple rooms and a double, all they make 20m2. One of the triple rooms have direct access to a terrace of 25m2.
We have tried to make the rooms comfortable and cozy, to rest well during their stay in the house. All are exterior with views and are all different and decorated with various colors: Green, Red, pumpkin, mushroom and La Terraza.
All rooms have bedside tables, wardrobe with hangers, a bench to put the bags, a double bed and one single, except the room of the mushroom, which is double and only has a double bed.
The environment
All the around the house belongs to the farmhouse, the mountain is filled with walking paths and observe the forest and enjoy the silence and tranquility. In summer you can also walk along the stream of Esparra, a small stream that runs 50 meters from the house, which usually takes little water.
The little ones can play safely, as car access is limited. La Casa Nova is in the midst of nature, surrounded by Mediterranean forest, full of pines, oaks, cork oaks, arbutus...
Animals that can be found are various, from wild boars, squirrels, badgers, hedgehogs, deer... until owls, harriers, blackbirds, pu-puts, robins, cuckoos climber...
Each room has a bathroom about 4 m2 with sink, toilet and shower.
Registration Number in Tourism Register of Catalonia and Andorra: PG-000901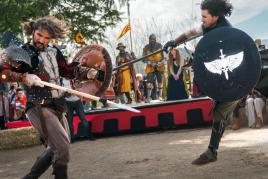 07/04/2023 - 09/04/2023