Contact
info@lopaller.com
Lo Paller ** is a Mountain hotel, located in the town of Valencia d'Àneu, halfway between the Aigüestortes National Park and the Baqueira Beret station.
It takes its name from the old family barn that was rebuilt in 1993. It is a construction of the area with the characteristic decoration of the environment: warm wood, stone... The hotel has 14 cozy rooms and has a bar, restaurant, living room, private parking and an extensive green area ideal for More smalls.
Do not hesitate to ask us about the activities and excursions that can be done in the area; We will be happy to discover the most beautiful corners for you to spend unforgettable days in the Àneu valleys. Nature, here, can be enjoyed during all seasons of the year.
Bedrooms
The hotel offers different types of rooms:
double room
Marriage's room
attic room
family room
The rooms have: heating, television, wi-fi, full bathroom, hair dryer, amenities.
Restaurant
In our restaurant you can taste the most typical dishes of the area.
With Dolores in the kitchen, be sure to try the seasonal stews: escudella, meat with mushrooms, trout from Noguera Pallaresa, picadillo de montaña... and chocolate cake with Catalan cream.
Environment
The Pallars Sobirà stretches from south to north, from the Collegats gorge to the town of Alós de Isil, following the course of the Noguera Pallaresa river. It is the fourth largest region in Catalonia and has one of the lowest densities in the country, with 4 inhabitants per km. In total there are about 6,000 inhabitants.
The region is home to the largest lake in the Pyrenees, Certascan, and the highest peak in Catalonia, Pica d'Estats.
Most of Pallars Sobirà is protected. There are various PEIN areas (Plan for Areas of Natural Interest of Catalonia), the Aigüestortes and San Mauricio Lake National Park, the Alt Pirineo Natural Park, the Noguera Pallaresa - Collegats Partial Nature Reserve, large areas of the Network Natura 2000, the Boumort Natural Hunting Reserve, etc.
Registration Number in Tourism Register of Catalonia and Andorra: HL-000681-82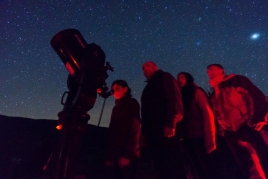 17/06/2023 ...