Càmping Riudarenes Riudarenes
Contact
info@camping-riudarenes.com
The camping
Our philosophy is, and has always been, to have friends and not just clients. If you know someone who has been camped here before, they will have already told you, and if not, you will have to come and check.
Surrounded by tranquility and nature, our campsite is perhaps one of the best places for those who want to get away from the noise of the cities and enjoy the peace and tranquility of nature.
The Camping is located in the middle of a forest area surrounded by oak and cork oak forests. Near the campsite passes "arroyo del Esparra", a small stream with clean and clear waters (in summer, when there is little water, we recommend taking off your shoes and taking a short excursion upstream)
If you like animals, here you can see a lot. Chickens, ducks, geese, goats, etc. If you like nature and animals, even if you do not plan to come camping at our campsite, you have to come and pay us a visit.
Services and Facilities
In addition to the "usual" things that you can find in most mountain campsites, at our campsite you can enjoy nature in its most natural state. You only need to walk a few meters to find yourself in the midst of absolute tranquility, among oaks, cork oaks and strawberry trees.
If, like us, you like animals, at our campsite you will see a lot of different types. Here you can see ducks, geese, hens and chickens, pheasants of various kinds, goats, etc.
Included in the prices of our rate, we offer our clients a series of amenities that, although they may go unnoticed, some campsites of the same category do not offer, such as: hot water and heating in the services, paved basketball court, a large social area, swimming pool in the summer, barbecues...
However, if there is something that all our clients perceive (and appreciate) it is the familiar treatment that we try to give our clients at all times.
Location
The campsite, despite being in a very quiet area in the middle of the mountain, also has the privilege of being close to the main communication routes, that is, we are at:
Registration Number in Tourism Register of Catalonia and Andorra: KG-000151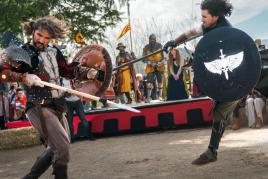 07/04/2023 - 09/04/2023