02/06/2022
09/06/2022 - 10/06/2022

16/06/2022
23/06/2022 - 24/06/2022

30/06/2022 - 01/07/2022

07/07/2022
14/07/2022
21/07/2022 - 22/07/2022

...
La Pedrera
Barcelona (Casa Milà, Passeig de Gràcia, Barcelona)
This event is over.
La Pedrera Jazz is presented as the essential cycle in summer in Barcelona.
A new edition proposes different concerts with the most relevant young talent of jazz performed in Barcelona. The poster is a combination of the most representative figures of the current jazz scene to achieve an unbeatable live soundtrack.
The roof terrace of La Pedrera becomes the most exceptional setting in the summer in which to enjoy the night, the views of the city and the best live music.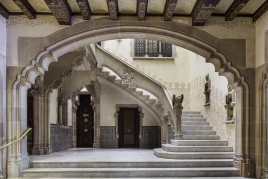 22/03/2023 ...