Jardí Botànic Marimurtra Blanes
Passeig de Carles Faust, 9
Blanes
Contact
comunicacio@marimurtra.cat
The visit to Marimurtra is an ideal activity to do as a family to discover incredible landscapes of the Costa Brava, bring science and botany closer to the little ones at home through the insect hotels, the organic garden and the thousands of plants in the Garden. Also, if you pay attention, you will be able to observe the birds feeding from the feeders, and how the fauna and flora of Marimurtra interact with each other in this wonderful corner of Blanes.
The Marimurtra Botanical Garden, the botanical garden of the Costa Brava, is a privileged place to enjoy the wealth of its botanical, architectural, landscape and human heritage. A paradise of the plant world that, thanks to its geographical context, has a close relationship with the Mediterranean Sea.
Marimurtra was created more than ninety years ago by Carl Faust (1874-1952), a German businessman living in Catalonia who, passionate about natural sciences and advised by the best botanists of the time, dedicated his efforts and assets to the realization of his dream..
Marimurtra unfolds like a great wild garden dedicated to the plant kingdom. The four hectares that make it up are divided into three gardens with different characteristics that are home to more than 4,000 plant species from five different continents, which allow visitors to travel the world while discovering botany, science and the wonderful landscapes of the Costa Brava..
The most unique historical monument in the garden is the Temple of Linnaeus, undoubtedly one of the most beautiful corners of the Costa Brava, with romantic architecture, and with an exclusive location in the first cove of the Costa Brava, Sa Forcanera.
The Marimurtra Botanical Garden was declared a Cultural Asset of National Interest by the Generalitat de Catalunya and in 2009 received the Cross of Sant Jordi.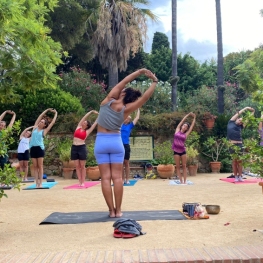 Jardí Botànic Marimurtra Blanes
The Marimurtra Botanical Garden hosts yoga sessions with yogini Cristina Ishwari Yoga in this unique natural environment! Yoga is an ancient practice that allows…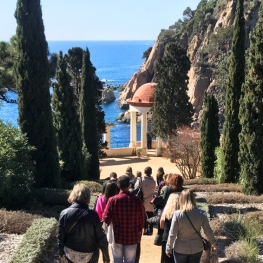 Jardí Botànic Marimurtra Blanes
The Marimurtra Tasting is a guided tour to learn about the most emblematic points of the garden, the history of its creation, the most notable winter plant specimens…