Càmping Rural Montori Ultramort
Camí Vell de Rupià, s/n
Ultramort
Contact
info@campingruralmontori.com
Camping Rural Montori is a place where you can rest enjoying nature just 20 min. of the best beaches of the Costa Brava. We are surrounded by the magnificent landscape of the Empordà plain, and touching the most charming villages.
We want to convey a new camping concept. We want our clients to enjoy their holidays near the beach, with all the comforts, but in a quiet way, without the bustling seafront atmosphere.
The girl can bathe all day in the salt pool, play in the playground, or go see animals that graze the nearby fields.
From the campsite there are routes to do on foot or by bike, or just walk around. We want you to take a vacation!
The Camping Rural Montori, on the Costa Brava, is very small and cozy. We have the following accommodations:
Wooden chalets:
Wooden chalet with equipped kitchen, dishwasher, fridge and microwave, SmartTV, heat pump, bathroom with shower, 3 bedrooms. (6 pax + 2).
Wooden bungalow with equipped kitchen, fridge and microwave, SmartTV, heat pump, and bathroom with shower, and two rooms (5 pax + 2).
Glamping:
Very original, with equipped kitchen, fridge and microwave, bathroom and 3 rooms that are shops on the roof, with terrace and private patio. (Up to 6 pax).
Shop with kitchen and bathroom. 2 rooms (Up to 5 pax).
Raised tent, with double bed, for two people. Wooden table and benches below.
plots:
We have about 20 plots, about 70m2, with 10A electrical connection and water.
To get more shade in the plots until the trees grow somewhat more, we put candle triangles.
The plots are designed for tent (+ car), caravan (+ car), van, or motorhome.
In some we accept 1 pet.
Facilities and services
A salt pool, 14 m long and 5 wide (the maximum depth is 1.40 m.), Surrounded by sun loungers or reading your favorite novel while you soak from time to time. Next to it is the children's pool, where they will cool off in peace.
We also have a children's pool of 3m x5m, with 20 cm depth, so that the smallest children can cool off safely.
The pool area is surrounded by a fence to prevent access outside the established hours, and to prevent accidents. We have a very large pool schedule (9:00 a.m. to 11:00 p.m.).
The playground. Between the multipurpose porch and the pools there is a playground. You can find from swings for the little ones, slides, rockers, and other original and fun games. There is also a trampoline to keep jumping. And a ping pong table for the youngest or not so young.
The sports area where the elderly can practice some sport.
Indoor soccer field, with goals. You can play at night, because it has some light bulbs, totally free.
Basketball basket, to make matches or see who n'encistella more.
The multipurpose room, or berta during the summer, of about 150 m2, where you can find an area of barbecues, sinks, coffee maker, microwave, refrigerator, etc. The coffee maker is a Dolce Gusto, and customers can buy the capsules at the reception or take theirs.
Barbecues of volcanic stone and plates of shared use. There is no coal. Enough meat, vegetables or fish you want copper.
There is an area of tables and chairs, so you can have a drink while watching a sporting event on the TV screen or simply when watching your children in the playground. It is with bar terrace type curtains and there are heaters to heat it a little. We have a sanitary area, also with some adapted for people with reduced mobility. And two showers with vertical hydromassage.
Next to reception there is a laundry area, with a washing machine. Its use is completely free. Just put the detergent. There are baskets that can be used and put back on your site, for another customer.
There is WiFi coverage throughout the campsite. We have free Wi-Fi, in case someone cannot completely disconnect from work or social networks.
Can Pericot, rural houses in Ullà.
Can Pericot is a rural tourism house located in Ullà. Next to Torroella de Montgrí (Girona) and, a few minutes from the beaches of the Cosa Brava.
The house was built in 1721, and the old houses have been renovated in four independent rural tourism houses: La Bodega, La Casa de los Abuelos, La Païssa and El Graner. An effort has been made to preserve the original architectural features, as rigorously as possible, combined with the comforts of our day.
When we arrived at Can Pericot we found a common courtyard to the four houses. In the building on the left, we have La Bodega on the ground floor, La Casa de los Abuelos on the middle floor, and El Graner on the upper floor. Across the courtyard is the Païssa.
The pool, common, also with the four rural houses, is located on the middle floor.
The rural houses of Can Pericot are ideal for families who want to spend a quiet holiday in the Empordà, or make family celebrations. As they are in the middle of town, parties that imply inconvenience to the neighbors are not allowed.

the winery
For 8/10 people. Cozy house that retains its rustic style with Catalan stone vaults. Two double rooms, a quadruple room with bunk beds, two bathrooms, living room and dining room, equipped kitchen, terrace with barbecue.
The grandparent's house
For 8/10 people. Very bright, with original stone walls and rustic finishes, it has a special charm. Two double rooms, a quadruple room with bunk beds, two bathrooms, equipped kitchen, living room, terrace with barbecue.

la Païssa
For 8/10 people. The old modernized haystack, preserves the stone walls and the open space distributed in three levels full of light. Two double rooms, a quadruple room with single beds in the loft, two bathrooms, kitchen, living room, terrace with barbecue.

the Graner
For 4/6 people. Charming house with two large suites, fireplace in the kitchen and private terrace.
Registration Number in Tourism Register of Catalonia and Andorra: KG-000166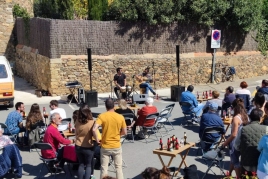 26/03/2023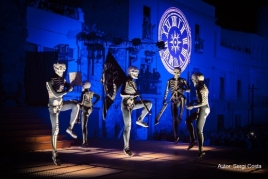 06/04/2023