The route begins leaving the City Hall of Argelaguer where we will find the G125, follow the direction towards Tortellá until we arrive at Morató.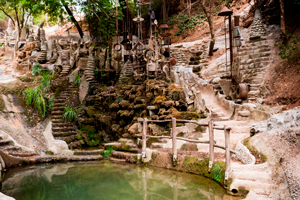 Once there, we take the detour to the left along a paved path until we find Fuente de Morató. Next, we take the detour to the right to join a dirt track that ends at the cabins of Garrell. Right there we can find a billboard indicating the tour inside the cabins.
The Park of en Garrell is the work of Josep Pujiula i Vila (1937-2016), an artist and self-taught inventor, a mechanical turner until he retired in 1999. Garrell's work creates different spaces and works between the mountain, the stream and the Fluvià river.
The park is also known as "The Cabanes de Argelaguer", a natural space that Josep took full advantage of to recreate a very personal world with cabins and wooden towers that climbed meters up and wells and pools. All this was achieved by taking advantage of the works of the Variant and the leftover materials, thus configuring the Riera de Can Sis Rals Fountain, a space classified as a Cultural Asset of Local Interest.
The work could be considered "land art" and "arte povera" since the author takes full advantage of the environment and the recycled material, creating spaces and spectacular works between the mountain, the creek and the river Fluvià.
Source: Garrotxa Tourism