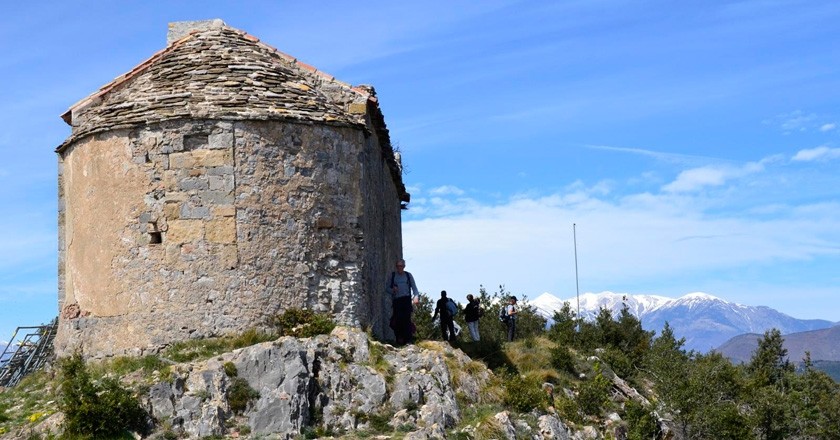 This route takes us to discover the hermitage of the Virgen del Fau, in Albanyà. It is an itinerary of a certain difficulty, with an accumulated height difference of 536 meters, allows you to admire a spectacular panoramic view of Maçanet de Cabrenys. It consists of a distance of 8.7 km and can be done with an approximate time of 2 hours and 50 minutes.
We take the road to the "Farga" and then the path of the Vilars that goes up the right side of Clot, this vineyard a little further up meets the road that leads to Can Hojarasca, shortly after it passes in the middle of the chapel of San Pedro the Vilars and Can Farm.
From the Vilars the ascent begins, we go through the Solers, through the Collada de los Gessos and we arrive at the Bac. Here is the Encina and the Fuente del Bac (7 Km.). We continue up to the Collada del Fau, we pass in front of the Tejo del Fau and a few meters we see the hermitage of the Virgen del Fau.
The Marian sanctuary of the Fau, on the top of the mountain of this name, within the old parochial term of Carbonills, was popularly called "the Virgin of the Ants" or "of the Aladas". It is said that these insects were going to die on the day of the pilgrimage (September 8) and that the pavement of the chapel was sown with these animals.
In the fourteenth century there is already talk of Santa Maria del Fau, but the sanctuary was rebuilt in the fifteenth century. It is an example of the survival of certain forms of Romanesque architecture in popular religious buildings. The temple, now abandoned, is a nave and semicircular apse of great simplicity. The neoclassical altarpiece remains in its place, but without the Virgin, which is kept in the parish of Albanyà.