For Sant Jordi, let's make paper roses with femturism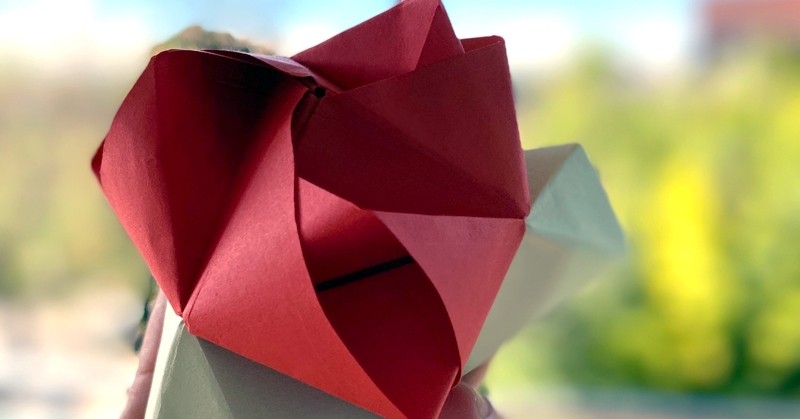 At femturisme we love Sant Jordi Day, this year will be different, but no less special. That is why we propose you to make your own Sant Jordi rose, a rose that lasts forever.
Then we leave you everything you need to do it.
Since we know that you are an artist and we will love to see your creation, we suggest that once you have it done you share it with everyone, thus flooding the Social Networks with roses in this unique Sant Jordi.
Tag @femturisme and use the hashtags; #totsfemsantjordi and #totsfemturisme
---
Difficulty: medium, suitable for all audiences. Entertaining to do with the family, the little ones can also collaborate.
Time: 30 min approx.
Materials: 6 square sheets of 12x12cm (3 of one color and 3 of another). We give you the template to print or you can cut your 6 squares.
What do we need?
3 A4 size sheets
Scissors or cutter and a ruler
Colors to paint the rose to your liking
A little patience and a little time, we currently have plenty of that!
Instructions
Download the template to print the squares here.
You can view the video 'step by step' that we have prepared for you and stop it wherever you need, so that it is easier for you to follow the steps to build your Sant Jordi rose.
Remember that you need 3 equal pieces of one color and three equal pieces of another color. Shall we start?
To consider!
If you have colored pages, you can also print the template directly. Attention, in this case you will have one square of each color.
We also leave you a template with the colors already painted in case you don't want to paint them.
If you don't have a printer you can cut the squares with a ruler and scissors. You will need to make 6 squares of 12x12cm (3 of each color)
#totsfemsantjordi #totsfemturisme