This event is over.
The Cós Blanc is the most genuine expression of Salou's identity during the winter festival.

In 1981 a Festival Committee gave it its current format, with the creation of a small parade that over the years would become the Cós Blanc and during which small newspaper clippings were thrown instead of confetti. Since 1995, the City Council has assumed the organization of the celebrations.

According to legend, the Cós Blanc began as a joke among some friends who at one point during the party threw pieces of paper at each other. At present it is a consolidated act, which changes every year incorporating new elements, with a constant increase in its infrastructure and in the participating groups.

It is one of the most anticipated and crazy acts of the local festival. At a certain point in the parade, on Ciutat de Reus street and Barcelona street, the procession stops, the music from the floats and the public lighting turn off and a spectacle of sound, light and confetti begins that drives the more than 20,000 people crazy. people who meet
We wait for you!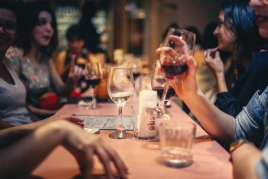 09/06/2023 ...