Parc Ferroviari de Cal Gavatx Les Franqueses del Vallès
Contact
via.oberta@gmail.com
The Cal Gavatx railway park is a railway interpretation center located in the heart of Vallès Oriental, in the municipality of Les Franqueses del Vallès. The facilities are separated into two spaces: the interior of the farmhouse and the outdoor park.
Inside the farmhouse we find several rooms with model trains with different stairs, the hall with the ticket office and the bar and the audiovisual room.
In the outdoor park is the manned modeling circuit. With a distance of 625 meters, taking a walk will delight all visitors from the youngest to the oldest. In addition, the circulation of trains is carried out with exact replicas of trains that exist in reality.
Both the visit to the models and the ride on the manned train is an ideal activity to do with the family, since both children and adults can climb.
The facilities are open to the public every Sunday from September to June. Consult our website for the calendar and hours of operation, as well as the special events that are organized during the year.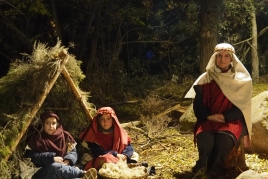 08/12/2023 - 10/12/2023