hostalplaja@telefonica.net
Contact
Services
Account garden, bar and breakfast service.
Comfortable and familiar.
Environment
With a privileged location in the center of the village, about 100 m in the market. who wants to can enjoy the best products palafrugell just a walk.
The hostel allows you to enjoy culture and leisure Villa from a close proximity.
In a small radius, you are offered the Muse Cork, film, theater and a large variation of craft markets on weekends. I can enjoy just 5 minutes by motorway, three wonderful beaches, Calella, Llafranc and Tamariu.
Location
Its main access roads are a-7 motorway. from the south, exit 9 and exit 6 north.
To reach the village of Palafrugell follow the county road c-1411.
The plaja hostel is located in the center of Palafrugell.
Registration Number in Tourism Register of Catalonia: HG-000814
Featured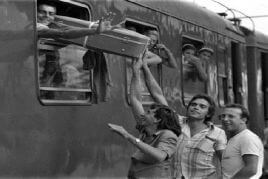 07/10/2017 - 26/11/2017