Guided tour: "Modernism and air raid shelter in sign language"
From the hand of @erika_llopis you can enjoy two new proposals in LCS that are:
the thermal and modernist Garriga, an itinerary that covers the most significant spaces of the residential, bourgeois and thermal Garriga of the 19th and 20th centuries.
the station's air shelter and the role it played during the civil war and the bombing that took place in La Garriga.
It is not an activity with an interpreter, but an activity aimed at all signatory deaf people who want to learn about the most unique heritage and history of La Garriga.
Location: Ctra. Nueva 46 la Garriga
Information and reservations: info@visitalagarriga.cat / 610 477 823
We wait for you!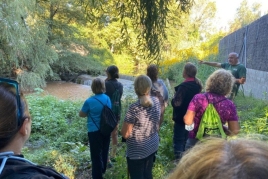 03/10/2023 ...

04/10/2023 - 08/10/2023