Via Ferrata Peñaflor, Els Reguers in Tortosa
It is a recently expanded intense ferrata where it is now worth the trip to see it. Its equipment offers great security and can be finished with 3 final rappels. In the foothills of the Massif de los Puertos, you can also see the Ebro valley from above.
Located between the Reguers and the Alfara de Carles, they are 2 municipalities very close to Tortosa.
With the expansion, a new 13-meter Tibetan bridge has been added. Also noteworthy is the route through some terraces with a large patio that gives it spectacularity. It has a bit of everything: steps, walkways, handrails, chains, both Tibetan bridges!
It is located in a climbing area, so both activities could be combined. The 20-minute approach makes it a very interesting ferrata to make the most of the day in the mountains.
It is usually a windy area, but the views once the ferrata is done give us an idea of the contrast between the unknown Massif de los Puertos de Tortosa - Beceite and our Ebro river.
By the way, ask us about the combination between kayak and via ferrata, since as you will see, you have the descent route between Xerta and Tortosa very close.
Our guides will explain not only this ferrata and the rest of the activities to complement it, but also gastronomic, cultural or recreational recommendations in the Tierras del Ebro.
Data sheet:
Duration: 2h30 'to 3h.
Equipped length: 800 meters
Total difference in altitude: 310 meters
Total length: 4 kilometers
Difficulty: k3
Rappel: Possibility of finishing with 3 rappels. See.
Nearest Ferrada: Ulldecona or Tivissa
Minimun 2 persons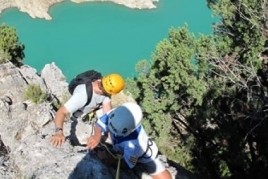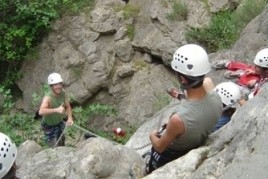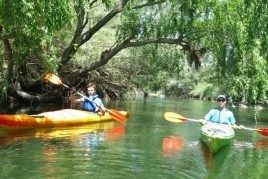 07/11/2021 - 30/11/2021

30/11/2021 ...