Plaça Sant Roc, s/n
Solsona
Contact
info@hotelsantroc.com
Located in the urban center of Solsona, the Hotel Sant Roc **** is a modernist and emblematic building from the beginning of the 20th century that preserves in its noble parts the spirit and style of the original structure.
Designed by the prestigious modernist architects Ignasi Oms and Bernardí Martorell, the building was inaugurated on August 16, 1929. In 2004, after a complete renovation, the hotel Sant Roc begins a new stage and returns to be a prestigious establishment for Solsona and its region. A hotel that stands out for its concept and its exclusivity.
History and heritage, modernism and avant-garde, luxury and comfort, personality and diversity, attention and service, creativity and innovation are words that perfectly define the new stage of a hotel that has adapted to current demands, trying to equal if not improve quality and the prestige enjoyed by the Hotel at the time of its opening.
The fact of being located in Solsona, gives it a particular charm since we are in a region that is the gateway to the Pyrenees and offers tranquility, large untouched spaces and great richness in its historical and cultural heritage.
With different room categories (single, double standard, double Superior and Special), we recommend staying in the Mirador Special, majestic and with very high ceilings, chandelier and modernist paintings on the ceiling; with a large terrace overlooking the Plaza Sant Roc. We can also highlight the Modernist Special, located in the most unique space of the building, it is also known as the La Glorieta room. The ceiling of the room with gold leaf base and the head of the bed treated with acid paint is the work of the artist Tate Garrigasait. Another of our special rooms is the Sant Roc Special, where you can find the modernist heritage of the Sant Roc hotel and in particular in its paintings on the ceiling. As well as being able to find romanticism in a single room, this is the Romantic Special, which captures all eyes for the exclusive decoration and its jacuzzi bath.
The hotel offers the following services: living room with fireplace, 2 restaurants, terrace, laundry service, parking, convention rooms and SPA with massage cabins.
Our gastronomic offer is creative and innovative. The restaurant "El Buffi" proposes a cuisine of author, quality and avant-garde, maintaining traditional roots. And the "Pequeño Buffi", the tapas restaurant, presents surprising, informal and varied cuisine.
Registration Number in Tourism Register of Catalonia and Andorra: HCC-00003729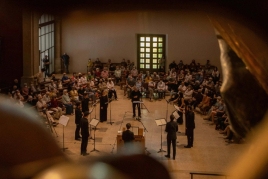 10/06/2023 - 11/06/2023 ...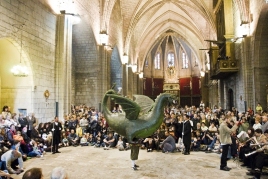 08/06/2023 - 11/06/2023