Hotel Balneari Broquetas Caldes de Montbui
How to arrive
recepcio.b@grupbroquetas.com
Contact
Presentation
Balneari Broquetas puts at your disposal its facilities, with the most sophisticated techniques, where you can benefit from the most complete treatments, always under the control of our medical team and enjoy the thermal-recreational baths.
Thermal water is one of the most used natural medicinal resources since ancient times and its therapeutic qualities are well known. With the passage of time and the change in habits and attitudes, the Culture of Health, this need to take care of our body to survive the daily stress, turns the thermal water into one of our best allies.
In this sense, the own mineral of mineral-medicinal water, which springs at 74 ° C, is a source of wealth mineral.
Our treatments
Depending on the treatment or technique chosen, you will be able to experience different experiences and sensations. That is why in Balneari Broquetas we have proposed to enjoy our mineral-medicinal waters. We offer a wide variety of services and thermal treatments and adapt them to the personal situation of each client (anti-stress, relaxation, weight loss, recovery...) always under the supervision of our medical team.
It is necessary to indicate that it is not necessary to be housed in Balneari Broquetas to be able to enjoy the thermal waters and their properties.
History
Balneario Broquetas has been around for many years, but it was rebuilt in 1770. It can be said that it has more than two centuries of history, since its most important activity began this year, when the old Hostal de Can Vicenç was renovated. Since then it has undergone several modifications and extensions.
The activity of Balneari Broquetas began in 1729, when its founder, Salvador Broquetas, built the first bathhouse where the current spa is now located, to which it gives its name.
Initially, the spa was a three-storey building that, over the more than two centuries of its history, has continued to expand to incorporate all the amenities for our customers, such as parking, gym... The prevailing modernist style coexists in harmony with the most heterogeneous zones derived from the successive transformations.
In the gallery of baths an authentic Roman sauna (vaporarium) of the second century is still preserved, in the form of a natural stone stove covered with a round, around which the Romans sat on stone benches. Its great architectural value has meant that this building has been declared a protected artistic monument.
The complex of Balneari Broquetas currently has 83 rooms, 8 luxury apartments, a gallery of thermal baths, massage rooms, body and beauty treatments, heated indoor and outdoor swimming pool open all year round, large gardens, private parking, restaurant Garden, reading rooms, cafeteria and snack area and rooms equipped and equipped for holding seminars, banquets, cocktails and social events. In addition, we offer mountain bikes to our clients for excursions and free wi-fi.
Registration Number in Tourism Register of Catalonia: HB-000164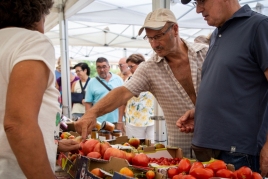 24/07/2021 - 25/07/2021