Funicular de Gelida Gelida
Passeig Josep Rosell i Massana
Gelida
With almost a hundred years of history since its first service, the Gelida Funicular was a key piece for the development of the area during the decades of the 20s and 30s, connecting the urban area of the municipality with the industrial zone, located less than 1 kilometer away. Stopping at 4 stations, with the buildings categorized as goods of local interest and with two vintage cars that transport us along the route, we can get an idea of what the day-to-day life was like for the workers of the Gelida paper mills.
The experience ends by enjoying the beauty of the landscape in the last station, located at the highest point in the area and where we will enjoy spectacular views of the Plana del Penedès, the Montserrat Mountain and Anoia.
WHAT TO DO IN GELIDA?
The Funicular Interpretation Center
If you want to discover how a simple train with a route of less than a kilometer completely transformed the lives of the workers and the mobility of Gelida during the 1920s, you cannot miss the Funicular Interpretation Center, located in the center of the municipality.
Tourist Routes around Gelida
The visit to the castle, the Gelida Modernist Route and a rich network of five routes for hiking or cycling that pass through the urban area, through agricultural and forest landscapes and through the industrial part, stand out.
Annual events:
He has two annual appointments with Gelida that are closely related to the Funicular, the Funimetra, which is a popular race that consists of running against the train to see who makes the journey faster, and the Funifira, a fair where the common thread and the protagonists are model making and railway leisure.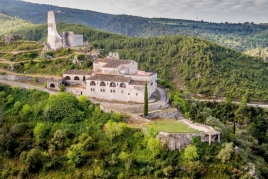 01/10/2022 ...